Exterior Color Presto Changeo
Even before we had found the house, I was certain what color I wanted to paint the house. Perhaps it was too soon to think about such things for some, but thinking ahead works for me and allows me to be decisive and confident when the time comes.
So, my desired scheme is dark gray siding, with white trim and a bright door.
And here is why.
No offense Seattle, but you can look pretty soggy and dingy at times. I know, I know, its not your fault, it rains a lot and you can't keep up. I get it. I mean when you can't even bother with proper curbs, who has time to power wash the house? Seriously the lack of curbs freaks me out.
So my solution is a dark exterior with bright white piping that looks (and stays looking) crisp. Like this for example:
Oo's and ah's ensue.
Need further proof? Lets play a quick round of photoshop magic!
Photo 1: A house on the market we considered that has super great exterior potential, but is also an example of the seriously sad soggy Seattle house epidemic.
Photo 2: A pure paint makeover. Not extra trim, dodads, or even a different door. Its all color.
Do you see what im talkin bout? Are you on the bandwagon? Obviously a bright colored door is a must. My mama taught me that :)
But here is the twist..... I thought I had this all figured out but then, of course, the house we chose has a orange brown roof. Its pretty horrifying. But in good enough shape there is no replacing it.
See all those nice gray roofs surrounding it? Haha bummer.
Soooo.... Im kinda stumped. The house is set up on a hill so passerby's can rarely seen the roof... maybe a warm gray would still be ok? Or navy? Like these?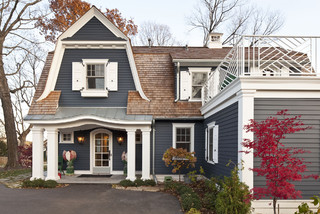 Save me from the fate of a soggy Seattle house! The good news is its a project far down on the to-do list, so we got time I spose.... :)